Few people know that Hoa Phat started making steel from a "ridiculous reason"as Mr. Tran Tuan Duong, General Director of the Group shared. But until Dung Quat project with a capital of 3 billion USD was constructed, the "ridiculous reason has" become extremely different.
"YOU HAVE TO TRUST ME!"
Hoa Phat started a business with other professions, so what is the chance for steel production?
Before 1996, Hoa Phat was still a equipment and accessories company. At that time I went to buy steel pipe to make construction scaffolding at a joint venture company in Hai Phong. It is the only company in the North making steel pipes with an output of only 2,000 tons / month, very little.
Buying steel pipes was so difficult, it still had to "lobby" to buy, so we bothered to find out how to produce steel and go to Taiwan to buy the machine, and established a steel pipe manufacturing company in 1996. From 1-2 original machines, now Hoa Phat has 76 pipe bending machines and becomes the largest steel pipe manufacturing company in Vietnam.
The steel company was born for this reason.
In 2009, when completing the first blast furnace investment in Hai Duong, Hoa Phat decided to invest in the second blast furnace at the right time when real estate went down, the steel market faced great difficulties. At that time, he convinced the shareholders how to still implement the project?
It is true that when it comes to shareholders' meeting, they questioned a lot. At that time, there were foreign shareholders who were members of the Board of Directors of Hoa Phat. They said that one blast furnace can be sold out, but another bigger one could not be sold out and asked to explain: steel market is bad, real estate market is slumping and problematic so whom can we sell steel to?
I also presented the plan, but in any case they did not listen. They still disagree with, I said, "You have to believe!" Hoa Phat's opinion is that when making good quality steel and the best price in Vietnam, there is no reason for cannot sell. Customers will buy ours first.
In the end, they agreed to follow us even though it was not very comfortable. At the 3rd blast furnace, the situation of foreign shareholders is the same although the 2nd blast furnace ocan be sold wholly. However, until the third kiln in Hai Duong, also the largest one, almost no one asked "whom we sell to" anymore. And when the Dung Quat project was worth up to 3 billion USD, the shareholders only asked, "Where do I get the money to do?", But this financial proof is easy….
At the time of speaking, "You have to believe!", Do you believe it or have a little risk?
I believe it! I make a product better than others with a better price, which is the most important, then I believe to sell all the products we produce. Cheaper and better, of course, i can be sold despite the market, even more supply than demand.
But with Dung Quat project worth 3 billion USD and output up to 4 million tons, the story of "selling to whom" will be completely different?
We still follow Hoa Phat's rules. Just look at a similar project in Vietnam with an output of about 6.5 million tons but must invest over 12 billion USD and do it in 4-5 years. Meanwhile, Dung Quat project has an output of 4 million (can reach 5 million tons), which is about 80%, but the total investment is ¼ and only built in 2 years. Looking at such investment, Dung Quat's competitiveness has the answer.
Regarding construction, currently Dung Quat project site has about 12,000 people working day and night, with more than 200 contractors. With a large number of contractors and staff working so we control the progress and quality of the project very well.
HOW DOES DUNG QUAT IRON AND STEEL INTEGRATED COMPLEX PRODUCE "GREEN" STEEL?
But what about the production cost of Dung Quat steel?
It takes about 3 tons of input materials to produce 1 ton of steel (about 1.7 tons of ore, nearly 1 ton of coal, half a ton of limestone ...), and after making the finished product, 1 ton of steel need to be transferred.
Therefore, to have a factory of 5 million tons of steel per year, it is necessary to transport at least 20 million tons of goods in or out of the factory. You can imagine 20 million tons a year, but the price is only about 3-4 USD / ton, the cost will be 60-80 million USD.
With the Dung Quat project, Hoa Phat has an integrated port with a capacity of up to 30 million tons / year and ships of 200,000 tons (Hai Phong port can only receive ships of 30,000 tons). Only the transport of raw materials from Australia and Brazil via the large port in Dung Quat has saved costs of about 2 USD / ton compared to the small port already.
Dung Quat has a factory there, so there is no need to transport raw materials so the cost saves a few more USD / ton. This is also the reason that all the largest steel plants in the world are located on the coast, with a dedicated port system.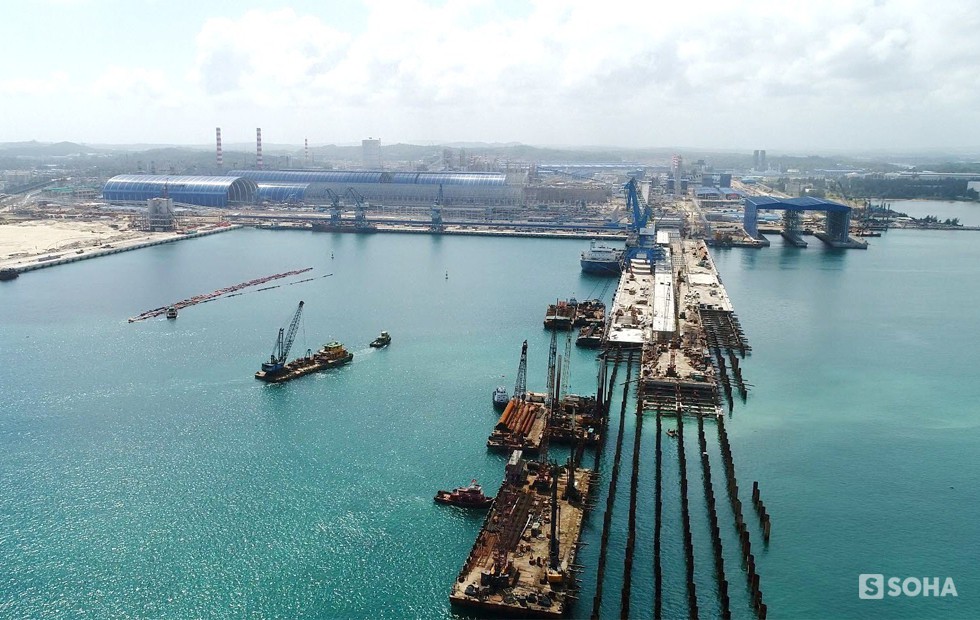 Regarding production, steel making in Dung Quat is also very different from the most modern factories of Hoa Phat before. For example, in Hai Duong, when an ore transporter arrives at a port, there will be an excavator carrying materials to the yard, when we need the materials, the car will go to the yard again and put it into the production system.
But Dung Quat is different. Right from the moment of landing, the ore from the cargo ship is always put into the conveyor system to mix with the necessary materials and everything is automatic. People don't even see the ore because it runs all the way through the conveyor belt ...
So how is the environmental protection issue of Dung Quat project carried out?
Hoa Phat spends up to 30% of the total investment of the project on the implementation of environmental protection measures according to European, Japanese and Korean in order to have "green" steel. These are countries that have strict environmental protection requirements.
We made such a high standard factory so that later when Vietnam's environmental requirements were enhanced, our factory could meet it.
How is the specific of the "green" element of Hoa Phat steel?
Firstly, air and water quality must be treated with the most modern environmental protection equipment. We spend hundreds of millions of dollars on these devices. The other is to produce a ton of steel together, but we use less coal and electricity also creating a "green" element in the product.
How does Dung Quat's steel produce less coal and electricity than other companies?
When producing millions of tons of steel in Dung Quat, this process will produce a huge amount of heat. Hoa Phat uses German technology, converting this huge amount of excess heat into input to produce electricity with a power plant of up to 200MW. With that process, Hoa Phat has autonomy of 65% of the electricity needed for steel production, and only needs to buy 35% of EVN.
The amount of electricity controlled by Hoa Phat is green electricity because it does not need to burn more coal or any other material and also saves a lot of costs. This is another reason why Dung Quat's steel will be very competitive not only in Vietnam but also in the world. In fact, when the Dung Quat project is completed, Hoa Phat will be listed in the world's 50 largest steel manufacturers.
"WE ONLY CREATE COMPANY VALUE, BUYING AND SELLING INVESTORS CREATE STOCK VALUE"
During the Dung Quat project, Hoa Phat's stock price increased for a long time. But when Dung Quat was about to form and give products, the company's stock price did not flourish on the stock floor but dropped a lot. As CEO, are you sad about this?
Absolutely not, because stock prices depend on investor expectations. Hoa Phat's value is assessed by many different methods. In the stock market, investors have 7-8 ways to price a company or a stock. But for us, there is only one value, that is the internal value of Hoa Phat.
In 2018, on average, every day, Hoa Phat has a profit of exactly 1 million dollars, every day it increases steadily. However, the stock price on the market has increased by 300 billion dong on a day of a decrease of 400 billion dong ... The stock market is essentially like that, the price fluctuates between little expectation and high expectation.
The press kept saying that Mr. Long (Mr. Tran Dinh Long, Chairman of Hoa Phat's Board of Directors) one day had more or less assets of several hundred billion dongs, or I added or reduced a few billion dongs a day, but that is not true.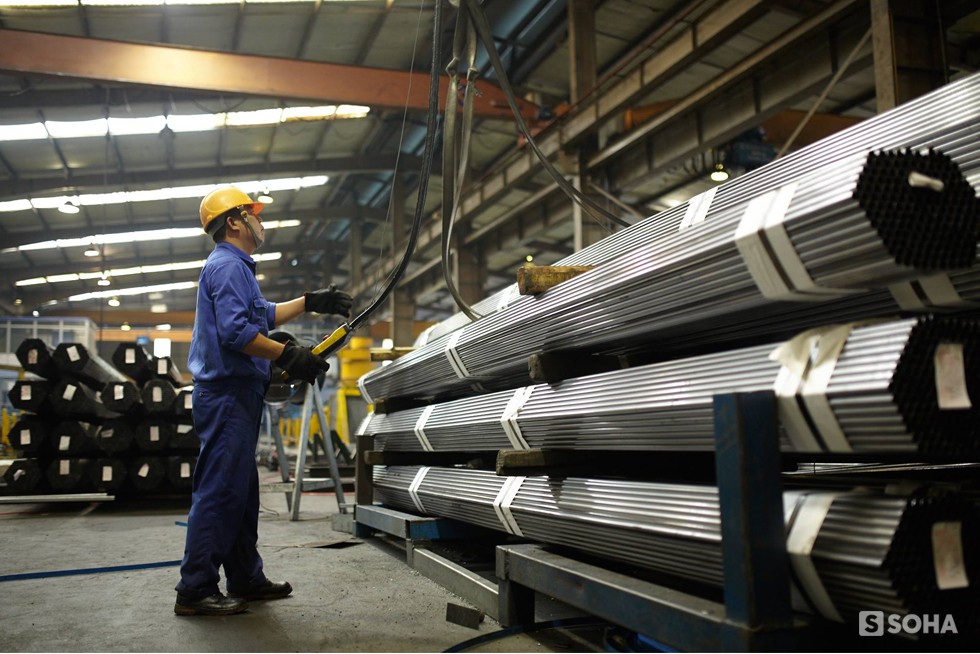 The most essential thing is that Hoa Phat earns an additional $ 1 million in profits every day, and the intrinsic value of Hoa Phat is bigger than the previous year. And so, long-term investors certainly have benefits and short-term investors do not know.
I do not mean that I am not responsible for the price of a company stock, but that is something we don't want to be able to do. Stock prices reflect supply and demand on the stock market only.
So when Hoa Phat's stock price went up or down continuously, were you under any pressure?
Almost no. Many times of the general meeting of shareholders, someone also told me about this, I also answered them the same as telling you. We are the people who run the company and are the major shareholders. As an executive, I am responsible for managing the company to the best with the most sustainable operation and to maximize benefits. That's to complete my mission.
And the stock price is created by the market and the buying and selling shareholders, not by me. You buy and sell and make share prices, and we only make the value of the company. Company values ​​and stock market prices are two different concepts, and can vary widely apart. However, in the long term, these two prices will fluctuate around each other.
I HOPE THAT HOA PHAT WILL LAST FOR HUNDREDS OF YEARS
From a small company, now Hoa Phat has become a big corporation, is the management different from the past?
Hoa Phat is like a living creature, the different stages has very different governance, like in philosophy they say: the amount of change is the quality. When the size of the business is 10 people, leaders know and communicate with each person, increased to 100 and 1,000 people, we should lead by the rules.
And up to more than two thousand people now, they must govern by the rules associated with the corporate culture. At this time, there must be a corporate culture for people to follow but only the laws cannot cover or supervise all individual behaviors in the company.
Many businesses are very good but have not grown up because they have not changed the governance system. They are still a family-owned company, uncle told grandchildren, and father told children that it would be okay to do it, if it wasn't convenient, I would scold him and ignore it ... If I wanted to be a really big company, I wouldn't like that.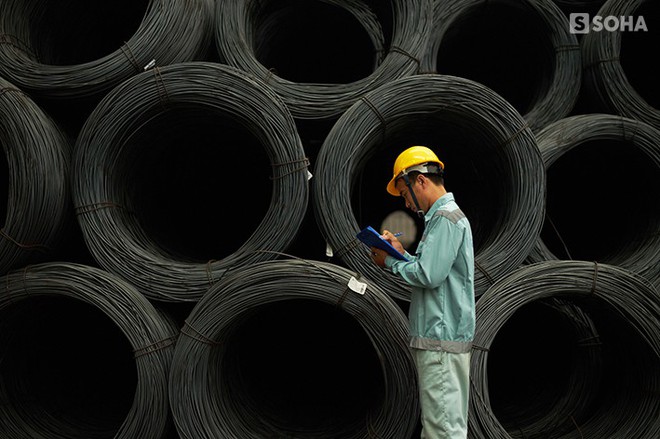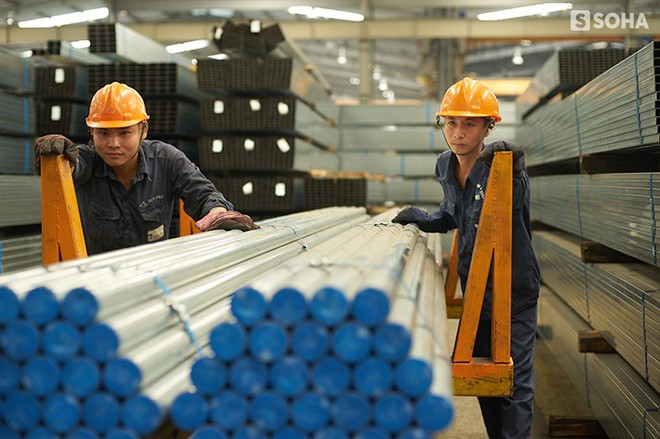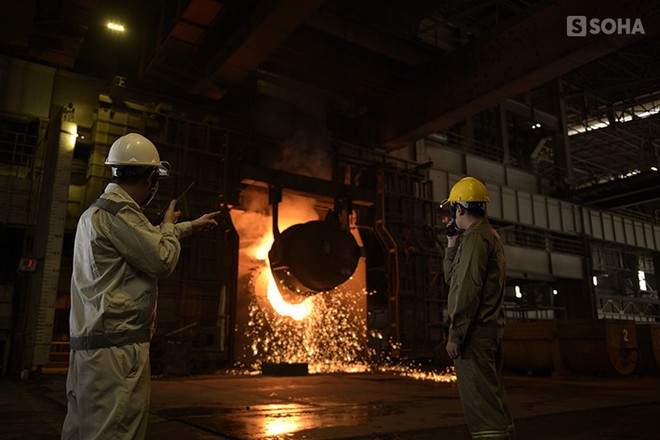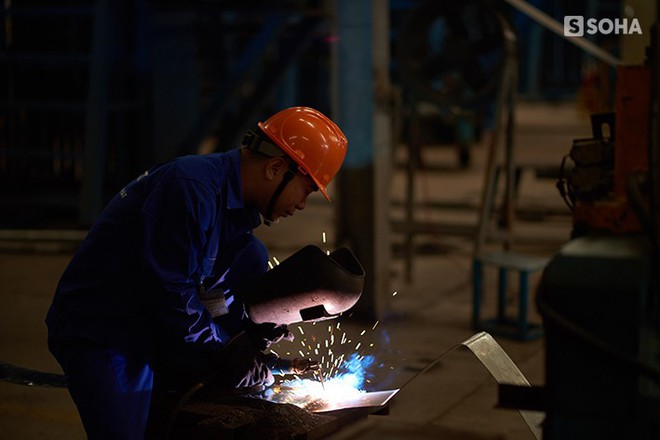 What is Hoa Phat's culture ...?
Hoa Phat means harmony and development. Mr. Long (Mr. Tran Dinh Long, Chairman of the Board of Directors- PV) said this meaning since the establishment of the company and it has become our culture. Now, it is still true. The harmony of interests is not only among members of Hoa Phat, but also with the interests of customers, partners, society ... in order to develop well together.
And the Dung Quat project is also a typical example of social harmony when we invest heavily in environmental protection method (accounting for 30% of the total investment cost) to create "green" steel. .
The meaning of "harmony with joint development" sounds peaceful and does not seem to be true to Hoa Phat's drastic development goals and strategies, especially the Dung Quat project. Is there a contradiction here?
There is no contradiction. In life, people in harmony will grow better but it does not mean not being drastic when doing work. The market is the battlefield, nobody jokes with money.
When managing a company, no matter how smart one is, there is not enough drastic and strong leadership in the enterprise, the business is not great. Everyone in Hoa Phat is always consistent and determined with the path we have chosen and that's why we have it today. It is important to do it right and do it drastically.
In Hoa Phat, many senior leaders graduated from Hanoi National Economics University. You and Chairman Tran Dinh Long also studied the same course. There is a lot of harmony between you, isn't there?
In the Hoa Phat leadership group, apart from me studying with Mr. Long, there are a few other people studying together. I made friend with Mr. Long from my college days and then did business together before establishing Hoa Phat. And some other leaders and shareholders are in high school with Mr. Long.
Starting to make steel "from a ridiculous reason", when Dung Quat completes, Hoa Phat will enter the Top 50 of the world for steel production. What is your wish now?
When we started our business 27 years ago, we thought it was simply to make a living, and there was no big desire to say it. But now that I'm no longer worried about life, I want the Group that Mr. Long, I and many brothers in Hoa Phat build together will become something meaningful, competitive in the world and contribute to the country.
I hope that Hoa Phat will grow stronger, it will last for hundreds of years and the next generation can do more interesting things than steel.